For those who do not know, I wasn't born an engineer.
Yeah, my dad worked in the aerospace industry back in the 70s and 80s, my step brother is an electrical engineer and my other step brother is a drafting engineer for a manufacturing firm. But no woman in my family is an engineer.
I taught in urban schools in Los Angeles for eight years and loved it. What drove me to the profession was not the content, but the mentoring of youth, especially girls of color. Then, as the movie said, Of all the classrooms in all the world, she had to walk into mine.
Well, maybe not exactly…
But that is what it felt like when I discovered computer science. I loved creating and problem solving. I learned it alongside my students and we hacked together. Female CS students united we were! Deep inside though, I knew I wanted to pursue engineering but never felt the courage leave teaching for fear of failure.
I worked as a teacher and I was damn good at it. I also worked with non-profits, universities, and other organizations to build a better bridge for young women to enter the CS world, all the while wishing I was one of those women pursuing it full-time. I saw my students as my heroes and admired them.
Fast forward to April 2015, and I am given a decision to make: start a career as a program manager with an NPO that focuses on women in technology or enroll in a full-time immersive coding school who's mission was to bring more women and people of color into tech.
Thankfully I had a mentor who happened to have a Ph.D in CS and be a woman. (NPR has a great article on the prevalence of women in coding and why the numbers decreased over time.)
She gave me the advice of pretending that one day I chose one career over the other, and going through my day as if I was doing that full-time. And so I did. I pretended that I chose to be a program manager and the next day pretended that I chose engineering.
I spent my day building a pirate translator in Python with an online course, and texted myself using Twilio in another app. It became clear that now was the time to pursue the field that I was afraid of.
In my interview with Telegraph Academy, they asked me, "Why do you want to enroll in Telegraph Academy?"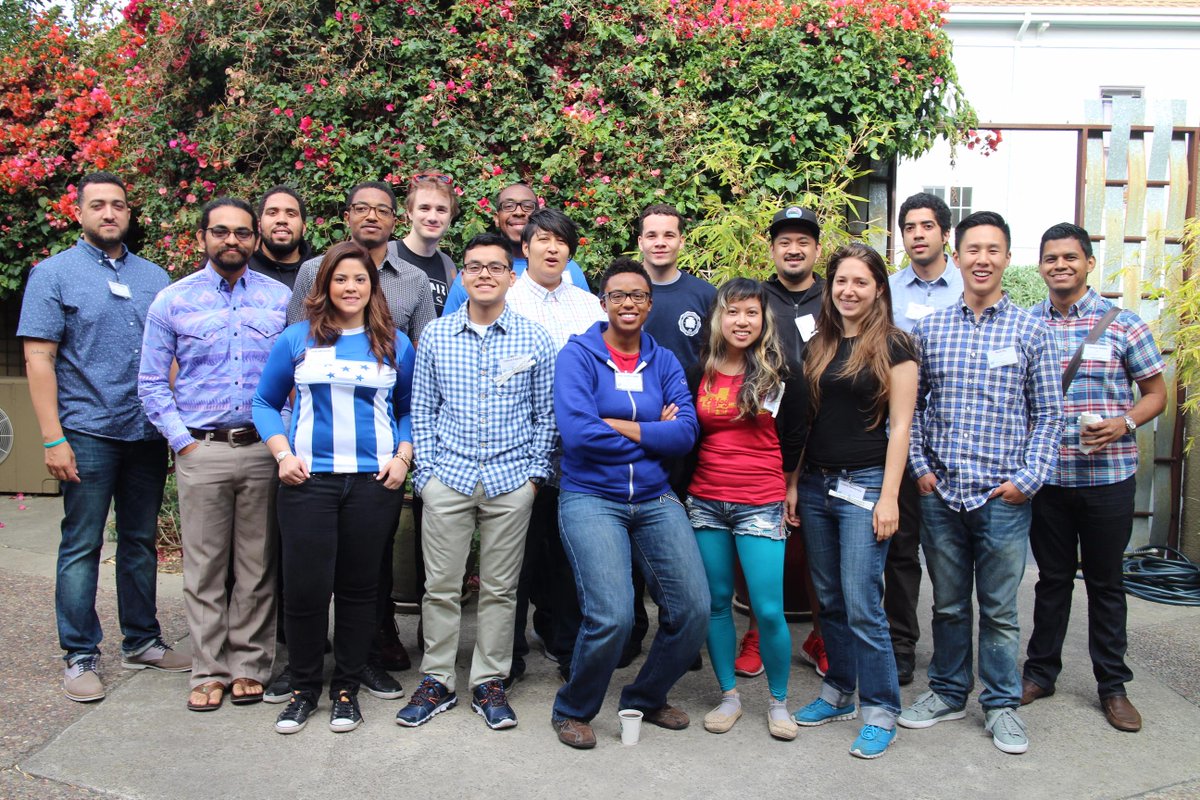 Yeah, I am the dork with my eyes closed and mouth open
I paused and thought back to all the times I saw a cool web app or library framework and wished I knew how to reproduce it. I thought back to all the frustration I felt at my progress in learning by myself in the basement on my desktop, burning the midnight oil, to barely even get a dot to appear. I thought back to the all the rejection emails or silence I received from tech companies when I applied for entry-level positions and didn't know enough JavaScript for their technical writing team.
My response was,
"Because its time for me to stop pretending that I can't be an engineer, and start becoming the one that I know I can be."